Catherine McDowell | Director and Herbalist
HI! I am Catherine, and I have been Director of McDowells for the last 17 years developing equine and human herbal programs. I am proud that as a company with humble beginnings over 30 years ago we have become a pioneer in the online world helping people access genuine classical herbal medicine for the whole family easily.
I am most passionate about providing 100% natural and holistic treatment programs that are reliable and get results! I love posting on Face Book the stories of clients amazing transformations .
Sustaining excellent health is no accident and developing effective herbal programs is no accident either! I love researching the latest science that is supporting our philosophy of natural living and herbs as medicine. My favourite topics revolve around Spiritual Ecology and Somatic psychology – Herbs are the bridge between the seen and unseen in life and as I understand more about how to use herbs, the more I rely on this classical/ethical system of living that is genuinely devoid of chemical interventions for all my families health.
It is my wish that natural medicines are seen for what they are- an important and integral part of our healing heritage and future that every person has a right to access freely.
Favourite Product: Alleviate and the Tendon and Bone for horses- but I just realised that we have so many other fantastic formulations that I can't pick just one!! My favourite Herb though is Buchu!
My Favourite animals are My beautiful Babka (a Borzoi) , Elizabeth ( our miracle Practice cat) and Mr Miagi ( my cute little warmblood gelding by Medallion) especially when riding out in nature…
I am looking forward to : With the help of our amazing team at McDowells we will continue to pioneer healing programs and be leaders in providing you with 100% Natural herbal products for Horses , Dogs , Cats and People.
Read more: Cath McDowell, A Herbalists Vision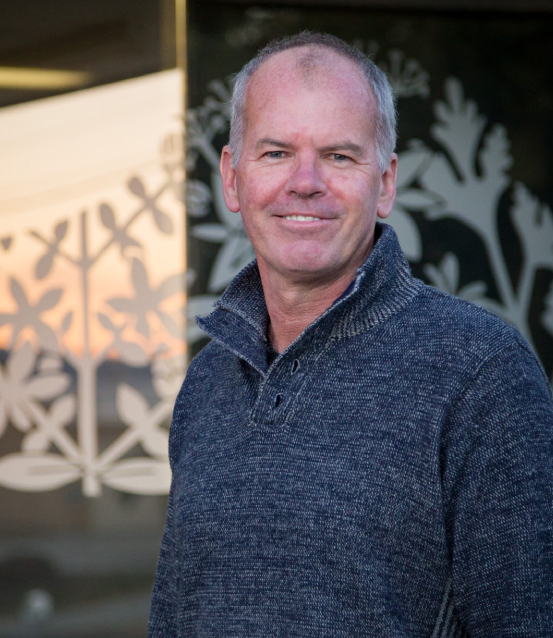 David Mansfield | Director and Business Manager
I'm David and in the short time (12 months) I've been with McDowells I have been involved in all aspects of the business trying to learn as much as I can about what we do and how we best serve our customers. With a background in agriculture and horticulture I am constantly amazed how we turn raw plant products into valuable medicines that constantly get great results and have our customers coming back for more. My role is primarily to coordinate the development and growth of the business through product innovation and implementation of new manufacturing processes. Along with Cath and the team we are striving to establish McDowells as the primary source of genuine herbal medicines and treatments for you and your animals in the country, ok the world.
Favourite Product; Mr Mansfield's Daily Ritual, need I say more!
Favourite Animals; My Australian Stock Horse 'Ricky', because we have an understanding.
Looking forward to; Building our brand as a major player in the natural animal therapies industry.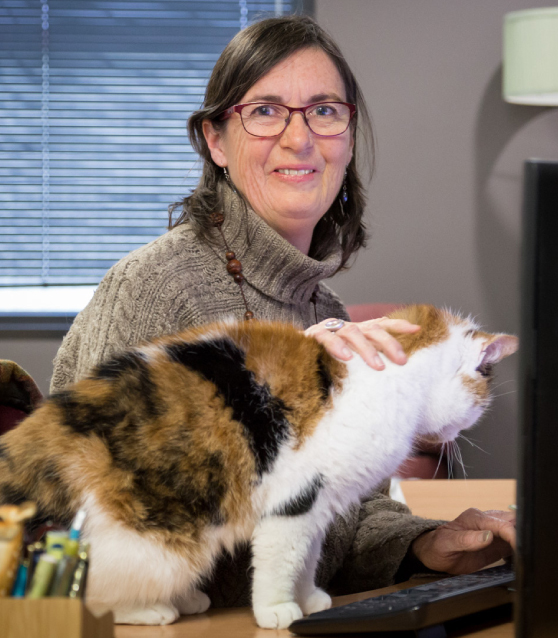 Kate Hartley | Senior Animal Practitioner
Hi I'm Kate and my role at McDowells mainly involves both phone and email consults for your companion animals. I also assist with the herbal orders and sometimes help other staff members when needed.
I have always been passionate about animals – small and large, furred and feathered and was very lucky to have them in my life from a very young age. I consider them to be part of my family and I know and understand that for the vast majority of you the feeling is mutual. Being able to assist with improving their health is very rewarding and I aim to always strive for the best possible outcome.
My background prior to coming to McDowells was Veterinary Nursing , which I loved and always had a keen interest in alternative and complementary medicine- incorporating such healing modalities as TTouch for the patients with some lovely results. When the opportunity arose to learn herbal medicine and work at McDowells I was very excited. I love seeing the results that we are able to achieve – It makes my day to hear your success stories. I have been with McDowells for 18 years.
Favourite Product; I have lots of favourite products so I am going to sneak in three !! Maritime Pine Bark as it has such a broad application for so many diseases being such a potent anti-oxidant. Kidney Weakness as it is so rewarding being able to improve dog and cat health when struck down by renal disease. Nervous Rehabilitation as I hate to see any animal in distress and this is able to provide relief for so many.
Favourite Animals; Dogs, Cats and Horses but I love all animals even the cold blooded reptiles. I couldn't envisage my life without a dog though so I guess they have to top the list. Don't tell Lizzie though as she is such special pussycat. She waits for me to arrive at work and spends much of her day on her own chair beside me or occasionally sneaking on my lap for a much deserved cuddle. She has the most delightful melodious purr and "speaks" to all of us constantly throughout the day. Start a conversation with Elizabeth (Lizzie to me) and she will ALWAYS contribute to that conversation. She is a delight and we all enjoy her company. She is also a shining example of the power of herbal medicine – no-one would believe she has renal failure and is nearly 18 years old.
Looking forward to : Assisting with supporting you and your animal companions through their health issues with the aim of providing quality of life with the best possible outcome. Always striving to expand my knowledge.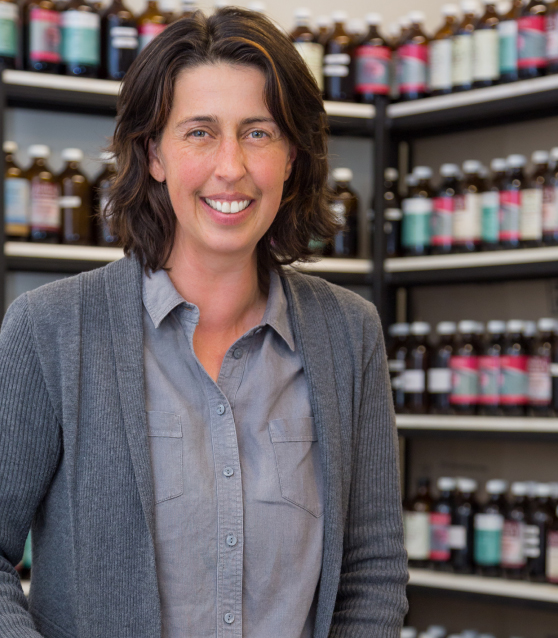 Dr Nicki Wiedmann | Veterinary Herbalist
Hello my name is Nicki and I am a part time consultant for dogs and cats at McDowells Herbals. I am here to work out the best possible treatment plan for the individual needs of our canine and feline patients, taking conventional treatment, herbal medicine, diet and lifestyle into consideration. I have recently joined McDowells Herbals and I am amazed every single day what a profound impact the herbal formulas have on the health of our companion animals. Furthermore, I have come across many stories of humans and equine patients with equally remarkable treatment success.
My favourite product is the Animal Botanical kidney formula. There is no other comparable product available that supports and restores kidneys in trouble. Additionally, it helps to eliminate toxins from the body. This formula is a blessing for so many patients!
I adore dogs! I love them all, from the dwarf to the giant. I feel so fortunate that I am able to work in a profession that serves these amazing animals. The dogs and their unique relationship with their owners is something I really treasure. Don't their energy, vitality and happiness infuses us every day?
I am really looking forward to endeavour even more treatment options for patients in need and to spread the word of the healing power of herbs.
Hello, everyone out there! The treatment suggested by your vet is not the only option for your pet. Please consider herbal medicine as well!!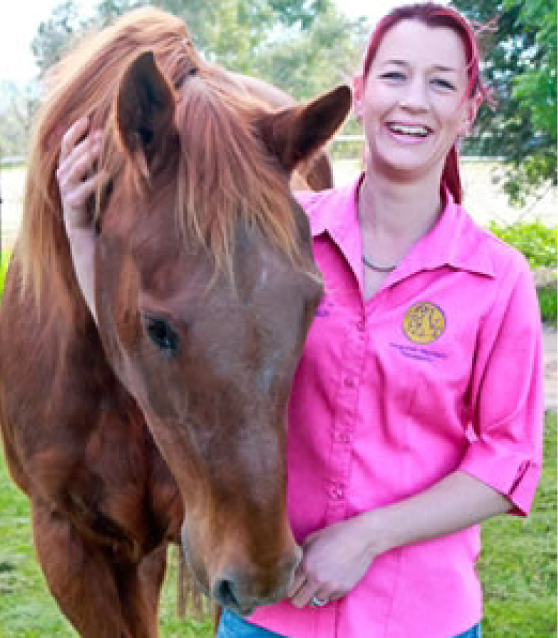 Dr Raquel Butler | Consultant, Integrated Veterinary Therapeutics
My name is Raquel Butler and my passion to become a Veterinarian all started from a very young age, my love for animals has continued to grow from there. Growing up with dogs, cats, rabbits, riding and competing horses and regular visits to my grandparents cattle and sheep farm allowed my attraction to the outdoors and the country lifestyle to flourish.Horses are my passion and have been since I sat on my first horse at the age of 1! I am astonished at their purity, forgiveness of human nature, their attempts to please, their sensitivity, their intelligence, their beauty and their sacrifice. This passion led me to Equine, Canine & Cat Muscle Release Therapy (EMRT & CCMRT) which are the official animal arm of Bowen Therapy. Muscle release therapy has given me another dimension to my ability to treat and heal animals, it complements my veterinary work every day
Graduating from Veterinary Science at Melbourne University in 2004, I spent 3 years in mixed practice, then traveled overseas and worked in the UK.
My aim is to bridge the gap between science and holistic medicine, revealing the improved outcomes by having an integrated approach to the animal. My knowledge is constantly being expanded to enable me to provide your animal with an integrated holistic approach to achieve the optimal results. Between working in my own practice, and heading up Biomechanics lecturing at Charles Sturt University Wagga Wagga in 2018, I will continue to provide my consultancy and support McDowells Herbal.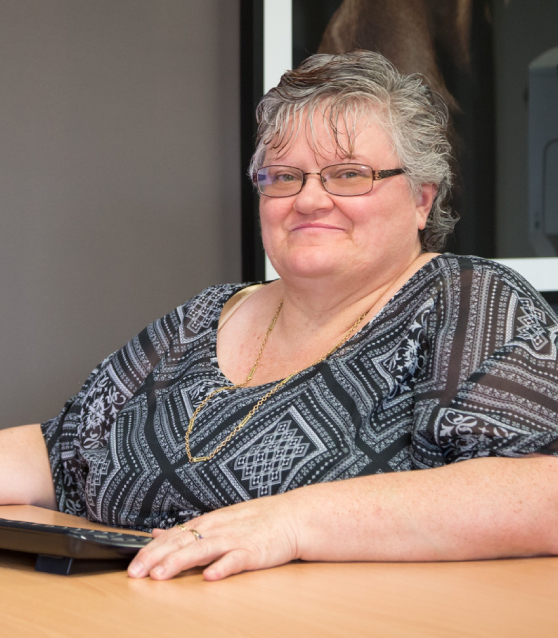 Ruth Belan | Customer Service- Administration
Hi I'm Ruth and my role at McDowells involves a bit of everything. If you ring during the day I will most likely be the one who picks up the phone. I deal directly with our customers to make sure they get what they need when they need it. I also help sort out all the difficult situations that may arise. I've been with McDowell's for 12 years and love hearing about your beloved pets and that the Herbs give you more quality time with them.
Favourite Product; The Family Flu Mix as my 18yo son said to me once "Mum, I think you better give me those Herbs again as I am getting sick too often now when I don't take them".
Favourite Animals; Are cats because they love to snuggle up with you, especially our Practice cat Elizabeth.
Looking forward to; Helping you all with your pets and showing more people the benefits of taking Herbs.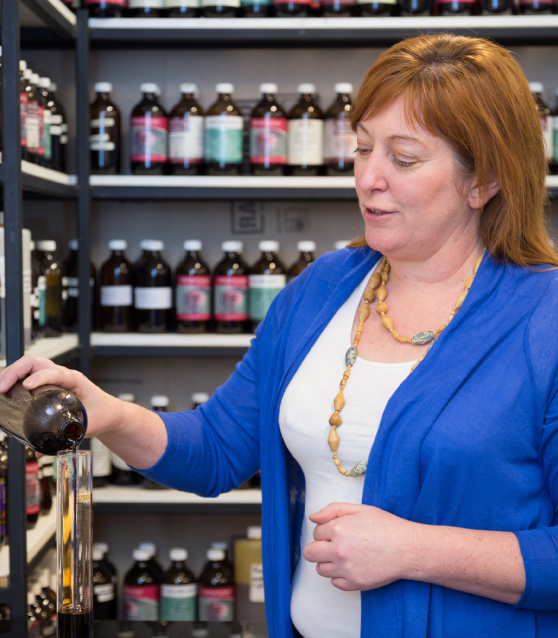 Treen McKeown | Customer Service- Fulfilment
Hi I'm Treen and my role at McDowells involves a bit of everything. If you ring during the day I may be the one who picks up the phone otherwise I will be one of the dispensary staff who will mix and pack your order.
I've been with McDowells for 10 months and love that we are helping people and their pets get healthy. I absolutely love my job and how it works in perfectly with my other loves in life Reiki and Yoga
Favourite Product; Very hard to pick just one but at the moment I am loving Mr Mansfield Smoothie Supplement. Makes a brilliant breakfast.
Favourite Animals; I love wombats but my favourite pet is my 10 year old Border Collie, Maya.
Looking forward to; Broadening my knowledge within the business and watching the business expand and grow.
Phil Brown | Website Manager
Hi I'm Phil and my role at McDowell's involves anything website. My passion is web based technology and I'm the one who develops solutions to give you a great experience. I've been with McDowell's for 10 years and love the daily success stories.
As an avid tea fan and to keep me going through the day my herb of choice is Mr Mansfield's range of tea products. Time for another tea!
I have 2 cats that both drive me crazy and adore. This may make me, crazy cat man!
Every day is a blessing and I look forward to more success stories from you and your companions.