Supplementing horses with calcium from organic, bioavailable sources has shown to assist in the development and maintenance of a sound skeletal system; it also helps prevent bone demineralisation that would otherwise lead to lameness, osteoporosis and Big Head.
In addition to chelated calcium, EQUICAL also contains kale, which is high in Vitamins A and K and beneficial in bone building.
In traditional herbal medicine, celery seed & rosemary are traditionally used to ease symtoms associated with inflammation, nettle for osteoarthritis, sage and aloe vera for digestion, and yeast as a probiotic.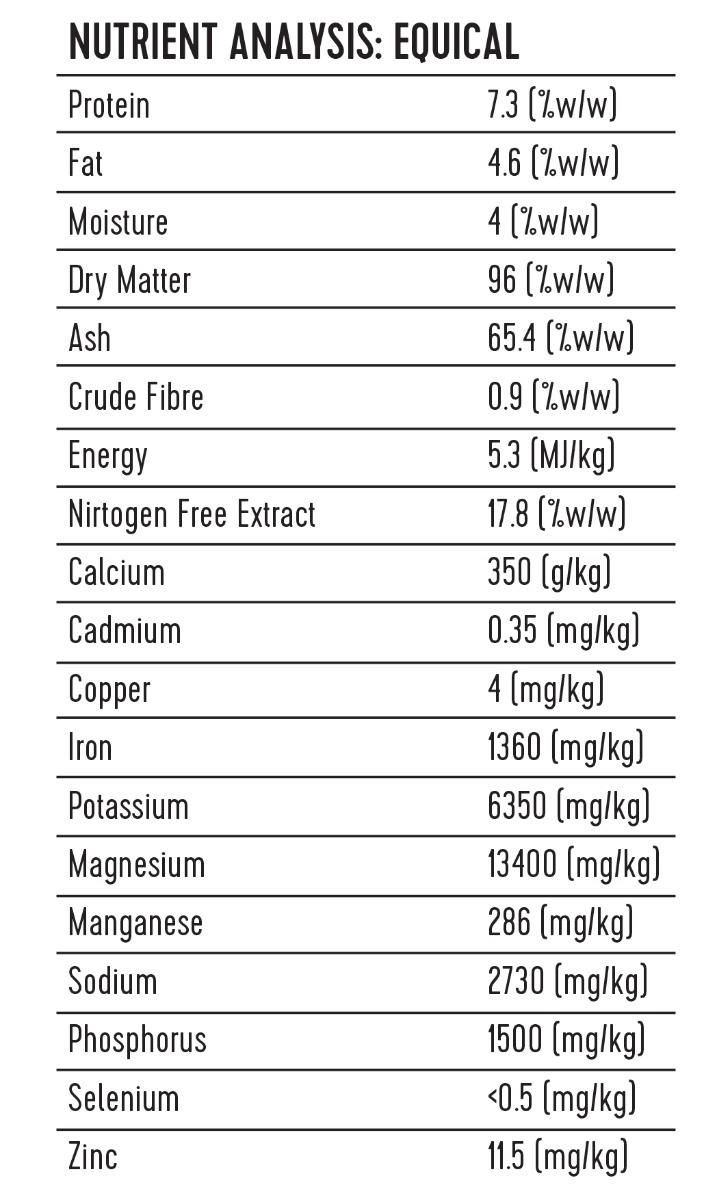 Animals: McDowells animal products are not intended to replace veterinary care or medication. Our supplements are offered as support for your animal's condition and not as a cure. All our oral supplements are to be consumed voluntarily by your animal in feed, treats or liquid.
Humans: McDowell's staff Herbalists can not diagnose your disease or illness. What they can do is offer a herbal program to assist with healing, after you have had advice from your doctor or specialist. If you have unexplained pain or symptoms, seek medical advice.
Calcium carbonate, magnesium carbonate, calcium chelate (citric acid, calcium hydroxide, glycine, rice flour), brewers' yeast, ground celery seed, kelp granules, rosemary powder, aloe vera powder, sage leaf ground, nettle leaf ground, kale leaf powder.
30gm per 500kg of body weight per day with feed for horses grazing on high oxalate pastures and other horses showing signs of calcium deficiency, or as long as signs persist.
One level scoop (included) = 50gm - 500kg body weight = 3/4 scoop.
A loading dose of double the above should be given for 2 weeks.
Note: Horses on feeds with premixes added or on high calcium forage generally do not need additional supplementation.
For Animal Oral Use Only
We found other products you might like!